supersonic festival

To celebrate 10 years of Supersonic Festival, musical instrument designers MortonUnderwood have created ten unique noise box synths for Capsule to auction. Each one is hand-painted by a talented designer in the Supersonic 2012 colours. The result is a beautiful set of bespoke synthesisers, which capture both the visual and sonic aesthetic of the festival. After being on display during the festival, the Noise Boxes are now individually up for auction via ebay. All proceeds will go towards future Capsule projects, helping us to deliver more extraordinary events for adventurous audiences. The auction ends Thursday 8th November.
A musician, predominantly a guitarist, producer, composer and visual artist from Seattle, Washington who has conceptualized and participated in numerous drone doom, death/doom, and experimental music groups, most notably Sunn O))).
London based Illustrator and Print-Maker. Working typically in pen and ink and traditional print making techniques with an enthusiasm for experimentation and combining Western and Eastern print processes. Working in collaboration with a wide array of contemporary musicians and artists including Boris, Earth and Wolves in the Throne Room.
A design studio and independent publishing activity organised by Harry Blackett and Robin Kirkham. Working in many roles — as designers, editors, printers, researchers, writers — a primary objective of the studio is to support the production of new art and writing.
Sarah Coleman (Inky Mole)

"Nibs and ink are my thing. I draw on paper and ink-heavy, word-soaked imagery is my trademark. Though I creep into fashion and beauty, the worlds of advertising, fiction, packaging and music are where my work seems to fit most snugly. If 'snug' is the right word.."
An artist and illustrator who lives and works in London. Through her intricately detailed drawings, she tells us a story of disquieting and disturbed beauty, a collection of relics from a world of wonder which is suspiciously seductive and disturbing at the same time, but while with one eye she winks, to reassure us all is well, with the other she threatens with a baleful presage. Conny performed as part of Moonn0))) at Supersonic 2012.
A graphic designer and sometime illustrator who currently resides in the Shropshire hills. David works on a broad range of projects of any size, shape or form including music / typography / branding / identity / surface decoration inspired by original crafted design. David created the identity for Supersonic 2012.
A Birmingham based illustrator who has created many wonderful gig posters for Capsule events, other clients include The Guardian, Warburtons and Static Caravan. Ben is also a member of the Outcrowd Collective who created this year's Festival of the Rea exhibition, which inspired the above design.
Ben Sadler (Juneau Projects)
Sadler is a member of artist group Juneau Projects, formed in 2001. The majority of their work includes participatory elements and involves projection, sound, music, animation and installation. Much of their work examines equipment-fetishism and the DIY processes which facilitate their electronic music.
Richard Sayer (French)
London based freelance artist / illustrator. A great deal of the illustration he has created has been for the skateboard industry, as well as music (Heavy Metal mainly) advertising, print, fashion and publishing. More recently he has been art directing and also curated a number of exhibitions.
Horror films of the 1970s, Marvel comic books, space travel, trading card graphics, traditional doom metal, twentieth century science fiction television serials and Yes album covers are just a few of the things that inspire Thomas in the making of his work. His work is created using a variety of materials, with an emphasis on hand-drawn illustration and typography.
Another excellent, hands on workshop has been announced for the festival this year. The GET A GRIP screen-printing workshop returns, this time in honour of Supersonic's tenth anniversary. The two-hour workshop, run from the GET A GRIP poolside studio and shop front, gives you an informal introduction to their manual water-based screen printing techniques.
The workshop is open to weekend ticket holders for £25 which includes guidance, materials and a 100% organic t-shirt to take home. Using elements developed by an independent illustrator, you'll put together a multi-coloured design to print onto a t-shirt. No experience required – you'll enjoy this workshop whether you're a complete beginner or an experienced printer.
To book a place, email admin@capsule.org.uk with 'SCREENPRINT' in the subject line – please also include your T-shirt size (Male or Female S/M/L/XL/XXL).
GET A GRIP, the Custard Factory's resident print studio, can print to order and regularly supply DIY bands and organisations with clothing labels, illustrations, vinyl record sleeves and posters. For more information visit www.getagripstudio.com
We're very pleased to confirm that as well as performing with Bill Nace as Body/Head, Kim Gordon will be presenting her installation Reverse Karaoke at Supersonic Festival. This collaborative installation by Kim Gordon and Jutta Koether consists of a painted Yurt style tent housing a lo-fi rehearsal set-up with guitar, microphone, bass, and drums. The visitor is invited to play the instruments and record their own music along with a pre-recorded vocal track of Kim Gordon's voice. The track is recorded live by a sound engineer who burns two CD copies of the track, while the visitor decorates two CD sleeves using materials in the gallery. One copy of the CD becomes part of the piece itself on display in a record box, and the other the visitor takes home. This installation will take place at Eastside Projects 19-21 October.
Another new highlight includes Modified Toy Orchestra , festival alumni who first performed in 2005 (some may remember the set that was cut short due to the bomb scare) and again in 2006. In 2012, Modified Toy Orchestra continue to explore the hidden potential and surplus value latent inside redundant technology; a process creating sophisticated new electronic instruments from abandoned children's toys. The results of this process can be shockingly beautiful, funny and also extreme.
In partnership with Sound and Music, Supersonic present a half-day extended panel discussion exploring contexts for the presentation of sound works and performances and approaches to listening. Bringing together artists, academics and industry professionals Counting In: The Art of Listening is an opportunity for a discuss how artists and producers can best stage work, how audiences can be best encouraged to enjoy it and how we can all become better listeners. Participants in the panel discussion include artist Lucas Abela (aka Justice Yeldman), music writer Frances Morgan (deputy editor at The Wire Magazine), curator Irene Revell (Electra) and Dr.Simon Hall (composer, sound engineer and academic).
In-keeping with tradition, Supersonic proudly announce the Kid's Gigs programme which will this year feature Flower/Corsano Duo and Islaja, the sole aim being to create big sounds with little people. Though really, this is fun for all the family!
Other programme additions include:
Grey Hairs – The kind of raucous grunge that can only be created by kids from the 90s
The Outcrowd's Festival of the Rea – An exhibition exploring the lost myths and pagan rituals of Digbeth
Moonn – A haunting performance inspired by the Heavens Above, featuring Conny Prantera and Mark Wagner of Sunday Mourning
Wildman Life Drawing – A drop in drawing session featuring a semi tame Wildman
SOUNDkitchen – Electroacoustic composers perform in the Theatre Space
Scratch 'n' Phase - Come and destroy some CDs and needles in the name of noise in this sound work where you control the volume.
Blood Harvest – A collection of films looking at the wild stuff that happens way out on the back roads. Curated by Network Awesome.
Trash Humpers – Harmony Korine's 2009 drama centred around an elderly cult in Nashville, Tennessee
Black Mass Rising - A lo fi experimental film exploring visions of the darkness, The Mystic, The Occult, The Religious and The Apocalypse.
To celebrate the 10th edition of the festival, we are proud to host a number of special collaborations where you can see known performers embarking upon unknown sounds. One such performance we are proud to present is Oxbow Orchestra. Expect strings, woodwinds, brass, operatic backing vocals and classically contained renderings of the Oxbow song book, featuring Eugene S Robinson and Niko Wenner from Oxbow and an Orchestra who will deliver songs new and old in a format unaccustomed to the blood and sweat of a typical Oxbow outing. The textbook definition of ONCE IN A LIFETIME. This ties in very nicely with the first film announcement which will be The Luxury Of Empire, a very intimate portrait of Oxbow at the peak of their artistic maturity, candid interviews and live footage reveals the trials and tribulations of this band. The film programme is coming together nicely with Jeremy Deller's 'The Bruce Lacey Experience' and a number of films curated by Jason Forrest at Network Awesome.
From one large scale event to a couple more (well it is our tenth birthday after all!) Lash Frenzy will perform 'Vir Heroicus Sublimis' as an improvised noise collective, featuring members of Anaal Nathrackh, Beestung Lips, Benediction, Sally and Einstellung. Another distinctive pairing will see KK Null and Birmingham's own ORE in sonic battle. In many ways, KK Null's collaboration with Lash Frenzy at Supersonic 2010 (with ORE's Sam on tuba) acted as a proof of concept for the sound of ORE, so it's entirely fitting to bring the two entities together this year.
The issue of creating art in challenging times is one close to the festival's heart and an exciting panel discussion will see the topic dissected by some truly inspirational practitioners.. The discussion is called 'You Can Be You' and will feature an array of maverick artists including Penny Rimbaud, Jarboe and Eugene Robinson. Offering an insight into some of the hows and whys of maintaining an independent spirit whilst on the very edge of the avant-garde, the panel will debate such topics as, how is the drive to make art is sustained under sometimes-difficult circumstances? and after many years of writing and touring music, will the desire to create ever be satiated?
Given the success of Imperfect Cinema's cinematic workshop last year, we have invited the team back to host a free workshop exploring DIY modes of filming and cinema only this time, the footage people gather using Super 8 cameras will be edited and used as visuals for Drunk in Hell's performance. All in all, an exciting opportunity for festival goers to be part of the performance and for them to utilise the unique industrial backdrop in a highly creative way. If you're interested in booking a place, email admin@capsule.org.uk with 'Imperfect Cinema' in the subject line.
Vinyl Rally will be a large-scale installation combining sound art, video art and kinetic sculpture into every kid and kidult's dream-hybrid; an immersive participatory play-set playing off vinyl fetishism, video arcade mystique and the machismo of motor sports in a video game played within a real world setting! Classic first person video racing is simulated as remote control cars with styli attached, race across a track constructed from a mass of disused vinyl records. This installation will be realised by Australian artist and glass eating expert Lucas Abela AKA Justice Yeldham. Who's excited to have a go on this mean machine?
Phew! Lots more info to come, as well as day tickets and volunteering opportunities. Weekend tickets are available to purchase via http://www.supersonicfestival.com/tickets and don't forget, if you want to see these sorts of ambitious projects continue, you can support us via our We Fund campaign
Thanks to all who came along to the first of two Supersonic taster events last Saturday at Eastside Projects in Birmingham. The amazing performances, and diversity of acts on show has got us all buzzing for the main event in October. Below are some lovely shots of the event by Katja Ogrin.
Laurence Hunt of Pram opened with a solo percussive project. Creating abstract sounds and looped feedback.
Sarah Farmer presented 'An Array of Events' using DIY instrumentation (plus viola)
Iron Fist of the Sun stepped the volume up a notch with a power electronics set
The first UK outing of Justin Broadrick's new JK Flesh project. And it was LOUD.
King Midas Sound System closed the event with a set touching dub, reggae, drone and noise, plus great vocals from Roger Robinson and Kiki Hitomi
If you missed this event, fret not! A second Supersonic Taster event takes place at London's Corsica Studios this Thursday 9th August. Tickets are available via
And if you'd like to see more events like this happen, with line ups to be found nowhere else, support us via our We Fund campaign.
As well as getting you hyped for Supersonic Festival with the heavy sounds of Kevin Martin (as King Midas Sound System, also performing as The Bug in October) and JK Flesh, we've taken the opportunity to programme some exciting sounds from some of Birmingham's own experimental sound artists for this exciting taster event.
One of these will be percussionist Laurence Hunt. Best know for his work with Pram and Modified Toy Orchestra, Laurence will be performing a new solo project – here's a glimpse and what you can expect.
The event takes place on Saturday 4th August at Eastside Projects from 7.30pm. Tickets are available via
First and foremost, we are thrilled to invite back former Supersonic Festival alumni, someone who appeared at the very first Supersonic in 2003 (he also performed again in 2008 and with King Midas Sound in 2010) we are of course speaking of Kevin Martin aka The Bug. This time, Kevin Martin will be bringing the party vibes accompanied by the world's fastest rapper and founder of Raggamuffin hip hop Daddy Freddy and Flow Dan (co-founder of UK Grime collective Roll Deep).
What Supersonic Festival line up would be complete without a local hero? For the tenth birthday celebrations, Supersonic are delighted to host the latest project of Nicholas Bullen, forever pushing and evolving ways of working with sound. With a highly impressive career spanning 35 years having founded Napalm Death and since established himself as sound artist and composer in his own right. Nicholas Bullen is known for his captivating multimedia performances and his omnipresence will undoubtedly be witnessed across the entire weekend. Stay tuned for more information regarding his involvement soon.
Bringing great diversity and an air of playfulness to the festival are a trio of musicians from the Finnish label Fonal Records. Visual artist and musician Islaja will marvel with her compelling combination of her unique vocal delivery and interweaving of a rainbow of instruments. Lau Nau, the free spirited Finnish artist otherwise known as Laura Naukkarinen playfully and expertly blends ethnic tinged folk songs with curious and intuitive sounds conjured from both familiar and exotic sound sources. And one of the most recognised experimental music makers, Jan Anderzen will perform as Tomoutonttu offering an exuberant cacophony of streams, mutilated voices and found sounds resulting in an all-round ecstatic display of contemporary music.
Over the next few months an exciting programme of film, talks and exhibitions will be revealed, including the unveiling of plans for sonic led dining experiences at the festival. There are still some more musical additions as well, all exploring & celebrating 10 years of adventurous music.
As a reminder, here is a list of the line up as it stands; Body/Head/Bohren Und Der Club Of Gore/The Bug/Carlton Melton/Clifford Torus/Dope Body/Drunk In Hell/ Dylan Carlson/Flower-Corsano/Goat/Hey Colossus/Hookworms/Hype Williams/Islaja/Jarboe/JK Flesh/Kevin Drumm/KK Null/Lau Lau/Lichens/Merzbow/My Disco/Nicholas Bullen/PCM/Rangda/Richard Dawson/Ruins Alone/Sir Richard Bishop/Six Organs Of Admittance/Small But Hard showcase/Stian Westerhus/SWLLWS/Thomas Ankersmit/Tim Hecker/Tomoutonttu/Ufomammut/Warm Digits and Zeni Geva
The festival takes place 19-21 October at Custard Factory, Birmingham
Tickets are available via http://www.supersonicfestival.com/tickets
Supersonic Festival, the world renowned event for adventurous music, art film and beyond is celebrating its 10th birthday.. We love a party so are expanding our celebrations by hosting two very special taster shows in London and Birmingham in August.
On 4 August we're thrilled to link up with Eastside Projects to present King Midas Sound System and JK Flesh, joined by Iron Fist Of The Sun, Laurence Hunt and Sarah M Farmer to bring cacophonous, abstract, abrasive and titanic sounds.
King Midas Sound System drops DJ exclusive dubs/versions and remixes as well as bleeding other artists' music into the astounding sound design, Featuring live vocals by Kiki Hitomi and Roger Robinson with Kevin Martin at the controls, be prepared for sonic adventures into the deep. Bass, drones, tones and infinite reverb mark the spot where immersion is the key.  http://www.kingmidassoundmusic.com
Godflesh, Head of David, Napalm Death, Techno Animal, Jesu, Greymachine, Palesketcher – just some of the projects from the insanely prolific Justin Broadrick who this year raised his Techno Animal moniker JK Flesh from the dead to promote his recent album Posthuman. Once again proving his mastery of all things brutal. This material will be showcased for the first time in the UK all thanks for Supersonic. Expect soul-crushingly dark beats and bass, layered with Broadrick's inimitable guitar and vocal fuzz, that will resonate with fans of Godflesh and the post-dubstep landscape alike. http://justinkbroadrick.blogspot.co.uk/
Iron Fist of the Sun
Bitter cold contemporary power electronics. Synth heavy and tonal, Lee Howard draws inspiration from electro-acoustic academia as much as underground black metal. http://www.myspace.com/ironfistofthesun
Sarah M Farmer
As Plato rightly said, 'Necessity is the mother of invention'. An Array of Events mixes traditional methods of sound production with DIY instruments and experimental techniques in a bid to overcome the problem of being a lone performer with only the usual number of hands and limited instrumental skill.  Whilst programs such as Logic and Ableton offer their own solutions to these problems, they come with the difficulty of seemingly infinite choice and lack the tactility of real instruments and the analogue sounds and happy accidents that come along with playing them.  In the realm of live performance, if something can be played live rather than sampled, why not at least give it a go?  Sounds and instruments have been created from every day items and cheap technology, generally things found around the studio/bedroom which are triggered by MIDI files and accompanied by live performance. www.sarahmfarmer.co.uk / www.sleepydev.com
Laurence Hunt more typically performs as a member of experimental groups Modified Toy Orchestra and Pram. A recent collaboration with sound artists Dreams of Tall Buildings and featuring Arve Henricksen, has triggered an interest in exploring textural soundscapes that he pursues here in his first solo venture on drums/percussion with live electronics.
The London taster event will take place on Thursday 9th August at Corsica Studios, more info on both events HERE
And Supersonic Festival itself takes place 19-21 October at Custard Factory, Digbeth. For line up info, tickets and volunteering info go to http://www.supersonicfestival.com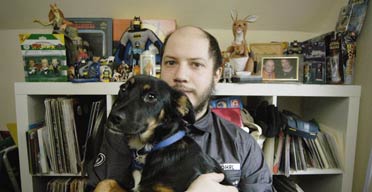 Stuart Braithwaite of Mogwai at home with his dog (Picture: Pete Millson)
We did a short interview with Stuart at Supersonic Festival 2010, he talks about his experience of visiting as both a punter, DJing and performing with Mogwai. He doesn't mention the infamous year of the bomb – when it was in fact his mum that telephoned from Glasgow to let us know that Birmingham had been evacuated due to a bomb scare and we had to close the festival. Stuart is also a big fan of Frank the pup, which of course gives him extra points.
Mogwai play the HMV Institute on Thursday and we can't wait to hear their new material played live – Hardcore Will Never Die went into the UK album charts at number 25.
Kevin Martin aka King Midas Sound and The Bug was recently interviewed for The Quietus and talked at length about his experience of working with Supersonic Festival and our approach.
In a weird sort of way Supersonic were responsible for me rethinking what I wanted to do with King Midas Sound. I'd seen Corrupted play a year or two before and they helped me remember the roots of where I'd come from musically….
They take chances where a lot of festivals don't. And also they're fans of the music whereas most festival organizers aren't. Most festivals are run by money men. Most of this industry is run by shitheads with a craving for a fat wallet. Jenny [Moore, Supersonic Co-Founder] and Lisa have stuck to their guns and been passionate about it. They booked me very early on as The Bug when my first album was coming out. They booked me for two years running and you don't forget stuff like that. You always remember the people who are in it for the right reasons and who support you because they appreciate what you're trying to do. A lot of people in this business are just shallow, empty vessels of greed. And they are not that.
You can read the full article here