Category : eastside projects

Display Show
19 September – 12 December
Public Preview: Friday 18 September, 6–8pm
Céline Condorelli, Charlotte Cullinan & Jeanine Richards, Koenraad Dedobbeleer,
Flore Nove Josserand, Andrew Lacon, James Langdon, Leeds Weirdo Club,
Goshka Macuga, Rita McBride, Eilis McDonald, Nathalie du Pasquier, Amalia Pica,
Yelena Popova, Haim Steinbach, Gavin Wade, Nicole Wermers, Christopher Williams.
(After: Franco Albini, Herbert Bayer, Lina Bo Bardi, Eileen Gray, Frederick Kiesler, Adolf Krischanitz,
El Lissitzky, Carlo Scarpa.)
Art is not exhibited, art exhibits. 'Display Show' initiates a set of artworks embedded in, reliant upon, and transformative of conditions of display as explicit attributes of functionality. 'Display Show' proposes to consider display as intrinsic to artistic production and interpretation, as the process of taking shape that redefines both notions of art as work and art as exhibition.
'Display Show' is an exhibition process that unfolds through an enquiry into forms of display, including an ongoing survey of radical display practices from the twentieth century, such as those of Franco Albini, Lina Bo Bardi, Frederick Kiesler, El Lissitzky, and Carlo Scarpa. These approaches will be considered through form and function, as historical case studies offering specific display conditions. Evolving in time over a number of sites, 'Display Show' exhibits the context specific nature of display – how it is always subject to change.
In its first iteration at Dublin's Temple Bar Gallery 'Display Show' proposes permanent alterations to the physical fabric of the gallery, starting from propositions by Gavin Wade, Yelena Popova and Céline Condorelli made after historical displays by Herbert Bayer, Eileen Gray, Frederick Kiesler and Adolf Krischanitz.
Its second iteration at Eastside Projects develops these sources further by mastering methods of reconstruction, re-enactment, copying, mirroring, modeling, reverse-engineering, upcycling, redeploying and monstering. They are encountered both through the ongoing material archive of the space (such as reconstructed mobile wall systems, Carlo Scarpa's panels for Palazzo Abatellis, and Franco Albini's plinths for Palazzo Rosso) and from a selection of new and recent artworks, producing new methods and processes of display as double, image, hybrid and design fiction.
The third iteration of the project takes place at Stroom Den Haag immediately following, and occupying part of, the forthcoming exhibition on Lina Bo Bardi's museum display works, reconstructed on a one to one scale by Celine Condorelli and immediately put to use to display 'Display Show'. The publication, 'Display Book', will be timed with the last iteration, taking the development of the project as a design methodology through the use of overprinting. It will be designed by James Langdon, and will also include contributions by Martin Beck, Hans Haacke, Chosil Kil, and Stefan Barbier Bouvet.
Can any object be separated from how it is shown, repaired, treated, classified, owned and valued? Throughout 'Display Show' we will follow a path that leads from the notion of doing-something-to-show-things (the technical term for which, in twentieth century art discourse, has come to be described as the verb 'to display'), to the notion that those actions not only change the way we see things, but are also a transformation of both the things themselves as well as ourselves. We see this as a process corresponding to the alteration or refurbishment of existing conditions for the common good.
'Display Show' is part of a series of group exhibitions and productions within Eastside Projects that examine modes of display and the construction of a public sphere. The series started with 'This is the Gallery and the Gallery is Many Things' in 2008, followed by 'Sculpture Show' and 'Abstract Cabinet Show' in 2009, 'Curtain Show' and 'Book Show' in 2010, 'Narrative Show' in 2011, 'Painting Show' in 2012, 'Puppet Show' in 2013, 'Trade Show' in 2014, and 'Birmingham Show' in 2015. Each project invites new curatorial and artistic voices to effect change upon the existing conditions of Eastside Projects and aims to impact on artists' practices further afield.
Curated by Céline Condorelli, James Langdon, and Gavin Wade.

Exhibition Launch | Samara Scott: Silks
Friday 15 May, 6–8pm
Eastside Projects, 86 Heath Mill Lane, Birmingham, B9 4AR
Samara Scott's first solo-show in a public gallery rips up and ruptures the floor to create an irrepressible, erotic topography of consumer products. Eastside Projects have commissioned the London based artist to develop an ambitious new body of work and the largest project she has undertaken to date.
Scott's exotically prosaic worlds of poured and pooled misused materials – household chemicals, soft drinks, toilet paper, scented waxes, noodles, eye shadow and toothpaste – cascade, smear and mould into an archipelago of voids cut into the concrete of Eastside Projects. Liquid surfaces cling to the floor existing as moist films, laminations and horizontal screens.
Scott's artworks contain all passages of what follows the first contact of the consumer experience, from the touch to mastication to assimilation and finally dispersal. Her works appear to have been spontaneously configured, slipping between infusions of nature and artificial imitation, antiquity and plasticity, synthetic import and organic craft class.
The title 'Silks' suggests an idea of movement, touching and indirect skins, reflecting the artist's urge to make tangible the bodily, gastric veneers of our digital and chemical realities. Scott's transformative mirroring of language and materials is typical of her never typical artworks that slither and dance around the edge of seduction and consumption.
Silks runs until Saturday 11 July.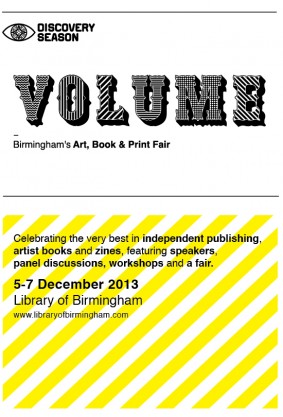 A celebration of the very best in independent publishing, this event will include speakers, panel discussions, workshops and a fair. Volume is being produced by Capsule for the Library of Birmingham in collaboration with a number of Birmingham arts organisations, showcasing the wealth and breadth of publishing expertise in the region. Each organisation will produce a panel, contributing to some of the debates currently critical in the fields of publishing, bookmaking and writing.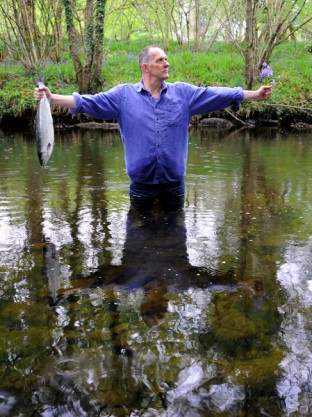 ——
Thursday 5th December 1pm £3
Writing for Digital workshop: not losing the plot
Aimed at writers interested in the future of publishing, the workshop will address the role of the writer for digital platforms. No experience of technology required; this won't be a technical session, rather an exploration of form and content for digital platforms.
Digital Technologies: Opportunities not Threats panel discussion
Panel discussion exploring experiments with digital technology and the possibilities they bring to publishing and writing.
——
Thursday 5th December 7pm £8 / £10
Bill Drummond – Keynote Speech (12 Years, 25 Paintings, 100 Questions, & The 17)
Drummond has used various media in his practice including actions, music and words. His actions too numerous to list, some more infamous than others; his music from the multi million selling KLF to the choral music of The 17; the words have accumulated into a pile of books.
Artist, placemaker and designer of the Discovery Season's flagship space The Pavillion – Morag Myerscough will be presenting an instinctive journey through colours, patterns and her design practice, accompanied by fellow designer and collaborator Luke Morgan and his band The Highliners (including Ginge, former Meteors drummer) creating a punk rock design performance!
——–
Friday 6th December
Panels
An Endless Supply presents In Conversation with Peter Bilak – discussing his new design magazine and models of social distribution. 3pm FREE
Activities
Letterpress workshop led by Leicester Print Workshop. All day, FREE
—–
Saturday 7th December
Panels
Grand Union presents Copy Rights – exploring the concept of originality and the politics of copyright. 11am FREE
presents: Roads to Market – Examining The Publishing Economy featuring Tindal Street Press, Alma Books, Nine Arches Press and Inpress Books. 1pm FREE
Birmingham Zine Festival presents: Make It Then Tell Everybody – how emerging artists can promote and distribute what they do. 3pm FREE
Eastside Projects presents The Paperless Stack – featuring figures from Library of Birmingham and the British Library. 5pm FREE
Activities
Zine in a Day led by Footprint Workers Co-operative
Roller Printing workshop led by Stephen Fowler
Artist Book Surgeries with the Centre for Fine Print Research
Introduction to Reduction Lino Printing with Birmingham Printmakers. 10am – 5pm £4 tickets via www.birmingham-box.co.uk
Performance
The Baskerville Society presents a John Baskerville radio play reading. 2pm FREE
——-
Friday/Saturday
The Fair – showcasing books, prints and artworks for sale from an international selection of independent publishers, printworks, artists and organisations including Werkplaats Typographie, Dent-De-Leone, Exitstencil and Imprint Press.
In residence Haworth + Hayhoe – The Library Project
Haworth + Hayhoe will be installing a miniature interactive library, running daily bookbinding workshops.
Panels are free but advance booking is essential
Box Office: 0121 245 4455 www.birmingham-box.co.uk
Exhibition Launch: Trade Show
Friday 6 December, 6–8pm
Eastside Projects, 86 Heath Mill Lane, Birmingham, B9 4AR
Trade Show is an ambitious cross-sectoral project to explore, commission and implement trading structures used by artists within everyday life situations. It specifically explores art projects from the last decades that engage in trading, shopping and economic value as a means of artistic production and dissemination.
Featuring work by An Endless Supply, atelier d'architecture autogérée, Sam Curtis, Valie Export, Field Cycles, Martino Gamper, Ella Gibbs, Katherine Gibson, Jens Haaning, Christine Hill, Myvillages, Kate Rich, Bob and Roberta Smith, Barbara Steiner, Apolonija Sustercic, Editions Shop UK, Casco.
Trade Show runs until Saturday 22 February.

Lunch Club
Friday 27 September, 1–2pm
Eastside Projects, 86 Heath Mill Lane, Birmingham, B9 4AR
Escape your desk or studio for an hour and join us at Eastside Projects for lunch. Everyone is welcome. We have an array of tea, coffee and herbal teas – all you need to bring is your sandwiches.

Salon: Archive This
Saturday 21 September, 2–6pm
£4 / £2 concs / free to ESP Members
Eastside Projects, 86 Heath Mill Lane, Birmingham, B9 4AR
Taking its cue from 'Dear Lynda…' this afternoon event offers a range of perspectives on, and approaches to, creating and utilising libraries and archives. In short talks by curator Lynda Morris, artist Ruth Beale, PhD researcher Samantha Epps, artist and archivist Karen Di Franco and more we will discuss the politics of libraries, ephemera relating to Conceptual Art and archives in the digital era.
Curator's Introduction: Cao Fei
Thursday 19 September, 6.30–8pm
£4 / £2 concs / free to ESP Members
Eastside Projects, 86 Heath Mill Lane, Birmingham, B9 4AR
Join Eastside Projects Director Gavin Wade and artist Cao Fei for an informal introduction to, and conversation around, the new exhibition 'Haze and Fog'.
Exhibition Launch
Friday 20 September, 6–8pm
Eastside Projects, 86 Heath Mill Lane, Birmingham, B9 4AR
Everyone is welcome at the launch of 'Haze and Fog' a solo exhibition by Cao Fei in the main gallery, 'Dear Lynda' in the second gallery and 'A Demonstration of Possibilities' in Flatfile. Exhibitions continue until 16 November.
'Haze and Fog' is a new type of zombie movie set in modern China. The film will explore how the collective consciousness of people living in the time of what the artist calls "magical metropolises" emerges from seemingly tedious, mundane, day-to-day life.
In the Second Gallery we present 'Dear Lynda…', an international touring exhibition that examines the importance of maverick British curator, writer, art historian and patron Lynda Morris.
Sophie Bullock, Freya Dooley and Sebastian Jefford, GO West resident artists collaborate on 'A Demonstration of Possibilities' the latest iteration of Flatfile, a plan-chest sited permanently within the gallery.
Flatfile: A Demonstration of Possibilities
21 September – 16 November 2013
Preview Friday 20 September, 6–8pm
Flatfile, Eastside Projects, 86 Heath Mill Lane, Birmingham, B9 4AR
Eastside Projects presents A Demonstration of Possibilities, an exhibition by Sophie Bullock, Freya Dooley and Sebastian Jefford in Flatfile, a plan-chest sited permanently within the gallery.
A Demonstration of Possibilities is a framework that is open to movement and alteration. In it Flatfile is converted into a growing and interactive toolbox where works appear as instructional or functional but for potentially unknowable or absurd uses.
For A Demonstration of Possibilities Sophie, Freya and Sebastian will present a collaboratively-developed whole work made of video, text and sculptural components, in which they respectively specialise.
Throughout September Sophie, Freya and Sebastian will undertake GO West, an ESP residency at The New Art Gallery Walsall. GO West gives artists from Spike Island Associates (Bristol), ESP (Eastside Projects, Birmingham) and WARP (G39, Cardiff) time and space to develop new ideas, connections and networks by spending time working together.
This is the fifth iteration of Flatfile, a project initiated as a platform for participants to make new connections through the development of new work.
Lynda Morris: Dear Lynda…
21 September – 16 November 2013
Preview Friday 20 September, 6–8pm
Second Gallery, Eastside Projects, 86 Heath Mill Lane, Birmingham, B9 4AR
'Dear Lynda' is an international touring exhibition that considers the maverick British curator, writer, art historian and patron Lynda Morris' ongoing endeavours and contributions in contemporary art since the 1960s.