Archive for February, 2011
Flatpack 5 has landed!
Prepare yourself for five days of cinematic wonders in venues across Birmingham, from 23-27 March 2011.
Tickets go on sale on Wednesday 2 March and the brochure will be hitting the streets at the end of the week. In the meantime, you can browse the website and see what you fancy… www.flatpackfestival.org
Sadly, we have to confirm that Ikon Eastside will close from April 2011 due to public funding cuts.
Ikon intends to continue our involvement with the Eastside district, with special programming and through our membership of the Eastside Contemporary Arts Consortium.
The final event at Ikon Eastside will be Rites of Spring, a celebratory three day music festival during 7-9 April featuring Turner Prize winner Martin Creed, Modified Toy Orchestra and Epic45. Check www.ikon-gallery.co.uk for the full line-up and ticketing details.
Thanks to everyone for their support and interest in Ikon Eastside over the last five years.
Capsule is delighted to announce they have been awarded a grant of £60,000 over two years from Paul Hamlyn Foundation. The award will be used toward capacity and organisational development in particular the successful delivery of forthcoming projects Home of Metal and Supersonic 2011, and the development of a five year plan.
Capsule are really grateful to the Paul Hamlyn Foundation for recognising the contribution they are making to the region and further a-field. The grant will be of enormous benefit to Capsule and particularly help secure our future during these uncertain times.
Gavin Wade of Eastside Projects last year received a Breakthrough Fund, which has secured 3 years funding for the organisation from Paul Hamlyn Foundation. This is all great news for the future of organisations based in Eastside.
The Paul Hamlyn Foundation Arts programme supports the development and dissemination of new ideas to increase people's experience, enjoyment and involvement in the arts.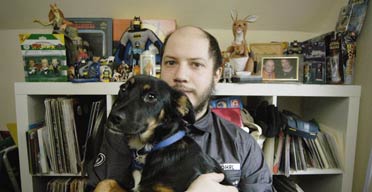 Stuart Braithwaite of Mogwai at home with his dog (Picture: Pete Millson)
We did a short interview with Stuart at Supersonic Festival 2010, he talks about his experience of visiting as both a punter, DJing and performing with Mogwai. He doesn't mention the infamous year of the bomb – when it was in fact his mum that telephoned from Glasgow to let us know that Birmingham had been evacuated due to a bomb scare and we had to close the festival. Stuart is also a big fan of Frank the pup, which of course gives him extra points.
Mogwai play the HMV Institute on Thursday and we can't wait to hear their new material played live – Hardcore Will Never Die went into the UK album charts at number 25.
Curator's Introduction: Dan Graham & Book Works
Eastside Projects, Thursday 24 February, 6.30-8pm
Free for ESP members, £4 for non-members
Get an exclusive preview ahead of the opening on the 25th. Hear about both exhibitions first-hand from curators Gavin Wade and Maurizio Bortolotti, Dan Graham and Slavs and Tartars.
ESP membership is just £5 a month and gets you free entry to all events and many other benefits. To find out more or sign up visit www.extraspecialpeople.org
Flatpack Festival celebrates its fifth birthday in just over a month (23-27 March) with parties, live scores, AV performances, a restored 60s mobile cinema, plus feature film previews, an archive renaissance and adolescent metalheads from Loughborough…
Full programme information and tickets will be available online at the end of the month. But before that, here are a few things to look forward to this year:
Self Made – Birmingham born Turner prize-winner Gillian Wearing's hugely-anticipated first feature.  The film is a highly charged emotional journey, which started with the placement of a local advert 'Do you want to be in a film? Would you play yourself or a fictional character?'.
We Don't Care About Music Anyway – an ear-opening portrait of Japan's experimental music scene, accompanied by a live set by Sakamoto Hiromichi who plays the cello in unusual fashion – with saws and angle-grinders.
The Nesst 2 -, a rescored selection of public information films presented by Mordant Music. A bunker installation which places these films in a suitably creepy context.
In Bed With Chris Needham – the trials and tribulations of an adolescent metal fan from Loughborough are laid out in painful detail by this legendary Video Diary, presented as a taster for this year's Home of Metal celebrations.
Paper Party – Saturday night antics include a live performance by audio-visual duo Sculpture who use video zoetrope record decks, tape loops, cassettes, samples, computer programming and lo-fi electronics. Plus Origamibiro and a VJ set from animator David Wilson.
More information on the programme can currently be found on the Flatpack blog. You can also keep updated on Facebook and Twitter.
chris+keir vs Melville Mitchell: Perform – Or Else
A Night of Performance Challenges
Curated by Jimmy Lindqvist and Maria de Regla Garcia-Bernal
Doors open 7.30pm, performance starts 8pm
http://www.chrisandkeir.com
http://www.melvillemitchell.co.uk
This is the last event of Live Acts and Sound: February at Grand Union
Also check out events happening earlier in the evening at Vivid and Eastside Projects
Some news from over here on the wrong side of the tracks – or Deritend High Street as it's otherwise known.
First up, here's the flyer for the next Sonic Asylum event on the 4th March from 8pm
Another great, international lineup, all accompanied by sound art, installations, performance and, of course, cake!  See the Sonic Asylum website for more details
Next, we have a return visit by our beloved Nomadic Academy of Fools – they'll be in residence from the 18th-28th of March with a series of workshops and performances on the noble art of Fooling – not to be missed, they really do cross the boundary between performance art and theatre, and in such a lovely (if sometimes disturbing) way.
We're also hosting a couple of events during Flatpack – which no doubt the Flatpackeers will be detailing elsewhere on this site, so I'll leave the bumf to them what know.
On another note, for all of you who like a good, late night out with a bit of a reggae flavour, please check out our friends at PST, just across the street from the Lombard Method. Pecka and the lads know how to provide a good time!  And, if you get a chance, check out Radar Magazine for a great interview with Mommy and Daddy Edge and Friction Arts.
See you at the Edge
Come to Grand Union this Friday for a special performance by My Imaginary Friend, a Birmingham based band of artists and musicians.
Free admission, doors open at 7.30pm, performance starts at 8pm.
Vivid are screening All Tomorrow's Parties at 6pm , and the Post Industrial Revolution residencies culminate in an exhibition opening at The Lombard Method, so worth making a trip out!
Don't forget that Project Pigeon's 1st workshop- Introduction to Pigeon Fancying- is this Saturday (19th Feb) between 2pm and 4pm at Project Pigeon's Loft on Milk Street, Digbeth.  We have some very special guests coming to give short talks too – top Birmingham flyer Ernie Crozier and top Walsall breeder Ray Fletcher will talk to you about their experience of pigeon keeping.  We also have a heater, a sheltered area and will have lots of tea, coffee and hot chocolate so you'll be comfortable for the workshop!  It's suitable for children too.  Let us know if you can make it by emailing: projectpigeondigbeth@gmail.com